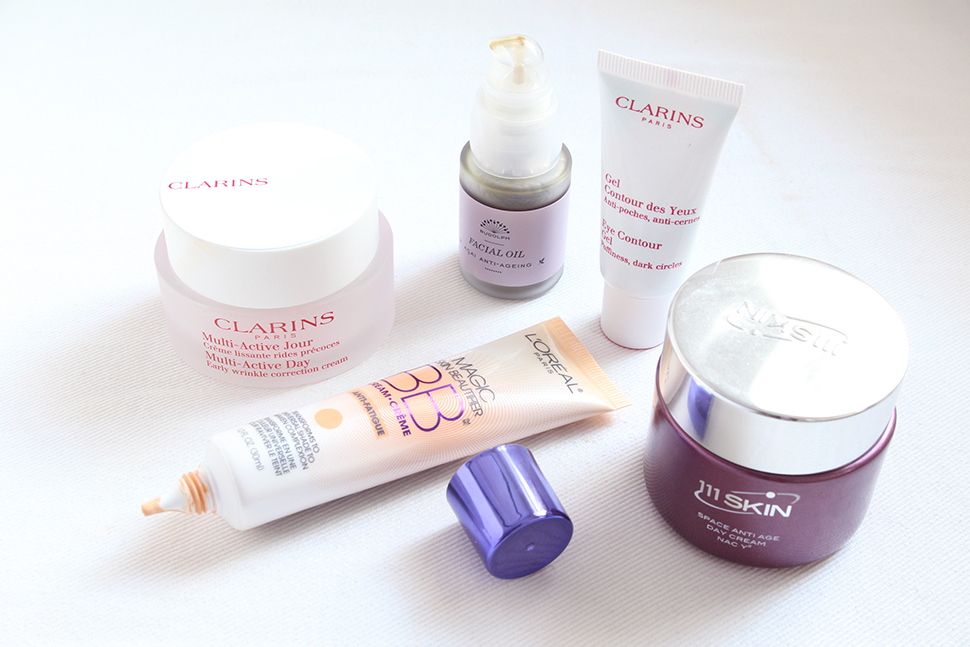 While finishing my week of isolation, and having a full body scan at the hospital, I'd like to introduce you – upon your many requests – to my skin secrets. Not that I ever wanted to make a secret of that in the first place, but when I receive your comments and questions – always so flattering – about what I do with my skin to make it look this way, you make it come across as a "secret recipe of beauty". Anyways, so what do I use? Let me start by saying that I'm not a good girl when it comes to beauty routines. I often don't wash my face in the evening, because I'm too tired or can't be bothered. I know this might not be the way, but I sleep pretty well at night with the thought that I have a proper morning-skin-routine in place. Moreover I believe that it can also work against you when you take too good care of your skin, and wash it too often – which is for me another argument for only doing the mornings.
Having that said, I start my morning with washing my face in the shower, dry it with a towel and making the following choice: Do I go with a day cream or a face oil? The answer depends on the level of dryness of my skin – taking note that since my thyroid surgeries and radiation my skin has been more dry than usual. So when my skin looks very dry I use Rudolph facial oil. I only apply this in the area from the eyes down. My forehead is never dry and when I put oil on it, I risk make it oily and shiny. We don't want that either, now do we. When my skin feels medium dry, or when I feel like putting something rich on my face, I use Clarins Multi-Active Jour cream. I have used that for ages. Again, not on my forehead, or only a tiny bit. When my skin feels normal I like to use 111 Skin Space Anti Age day cream which is light and super fresh. I love this cream big time, but since my skin became intense dry after radiation, the oil seems my only saviour. Every now and then I use Clarins Eye Contour gel too, but I think it doesn't work, or at least not the way I do it – not every day – so not sure if there's a point in doing it anyway. Last but not least, a recent happy find is my super cheap L'Oreal Magic BB cream. I use it after my oil or day cream, which I don't use everywhere on my face, just on/under my eyes, on my cheeks, and a tiny bit on my forehead. This gives me a less tired look, and a more even skin. I believe it works!
I think there's no secret in having a good skin, I think it all about finding what's good for you, and being lucky with some good genes – sorry. Testing everything you think might work will get you at the point where you have your "secret" skin recipe. I would love to hear your beauty routines! Did you find your ideal products yet?
Posted on October 15th 2014 by THE FASHION GUITAR